22 Jan 2014
En el 2000 Telecinco decidi√≥ dejar de emitir Expediente X tras el √ļltimo cap√≠tulo de la s√©ptima temporada (Requiem) y, como fan extrema, tuve que ingeni√°rmelas para descargar los cap√≠tulos (cosa nada f√°cil por aquella √©poca) y verlos en ing√©s.
Mi o√≠do no era muy bueno y los subst√≠tulos no estaban de moda, por eso tuve que buscar transcripciones del audio y fue en InsideTheX donde los encontr√©. Esta p√°gina me ayud√≥ a entender los cap√≠tulos y a aprender ingl√©s. Me sorprende y alegra que tantos a√Īos despu√©s, siga en pi√©.
I feel time like a heartbeat, the seconds pumping in my breast like a reckoning. The luminous mysteries that once seemed so distant and unreal, threatening clarity in the presence of a truth entertained not in youth, but only in it's passage. I feel these words as if their meaning were weight being lifted from me, knowing that you will read them and share my burden, as I have come to trust no other. That you should know my heart, look into it, finding there the memory and experience that belong to you, that are you, is a comfort to me now as I feel the tethers loose and the prospects darken for the continuance of a journey that began not so long ago, and which began again with a faith shakened and strengthened by your convictions, if not for which I might never have been so strong now. As I cross to face you and look at you incomplete, hoping that you will forgive me for not making the rest of the journey with you.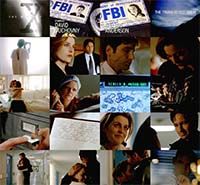 ¬ŅAlguien m√°s echa de menos esta serie tanto como yo?