Hi!
My name is Lydia Cubillas (Maybe you know my by my username Carlov).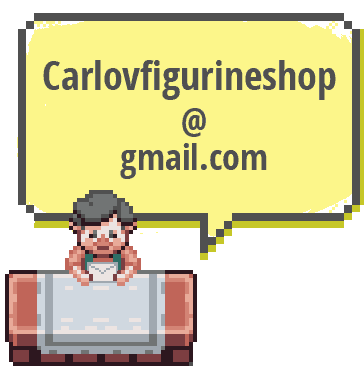 Who am I? I'm a thirty something girl who lives in a little town in Jaén with an Internet limited connection transfer of ¡10Gb! :S
I studied stamp and engraving techniques and computing without much vocation and without knowing what I wanted to do with my life…
I knew that it was satisfying fixing PCs, creating and configuring my blogs, that I liked to learn all I could about programming and web layout, that I liked drawing… but nothing completed me enough.
Through the years, I started modelling miniatures to spend the time and I realized that I enjoyed it. I loved modelling retro game characters like tentacles (from The Day of the Tentacle and Maniac Mansion), slimes from Dragon Quest and characters from series like Dr. Slump's poops and so on.
I finally decided that it was time to open a blog a show my work to others.
Also I've opened a online shop called CarlovFigurineShop on Etsy to see if I get lucky in the Crafting world.
So I re-modeled my old blog Memento Mori and created the brand Carlov Figurine Shop.
Carlov is a character from Zelda videogame who appears in The Minish Cap and The Wind Waker games.
He's a master sculptor and craftsman of figurines, detailed scale models of various motifs who has a shop inside the game and sells to Link figurines of characters from the game.
I chose that name because at night I used to play The Minish Cap while I was thinking about dedicating myself to modelling.
In this blog you can see my creations and others things that I would like to share with you.
I'm not a social person but the web is helping me a lot and I would love to know everyone of you.
I hope that you enjoy and if you want to write to me, feel free : )