I used to follow Blackmago on social media and Devianart.
He's a Peruvian guy who sculpted with Fimo and Sculpey figures like these: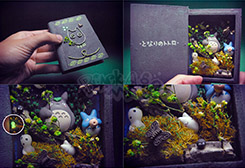 His miniatures, the perfection of his figurines and the finesse of his works are noteworthy.
I, personally, prefer his Totoro and his Spirited Away's figurines.
Blackmago was a very recognized person who sold his pieces on Etsy and in a physical shop.
One day, he disappeared off the whole Internet. His Etsy shop was erased and the World panicked. No one knew anything about where he was, if he was safe or if he was gonna come back.
On Devianart there's a forum about his disappearance where people asked about him hoping he was okay.
More than a year after, our prayers were answered and Blackmago had come back but this time with a new identity: Chappishop.
It seems, now, that he only has a physical shop in Quito, a Facebook Page (Chappishop. ), and an Instagram page (Chappishop. )
Note: nowadays he also has an Etsy store https://www.etsy.com/es/shop/Chappishop#
a Pinterest profile (empty) https://es.pinterest.com/chappishop/
a Deviantart profile http://chappishop.deviantart.com/
I'm glad that Blackmago is back and I hope that we won't lose him again.
If you are interested in Ghibli's World maybe you would like this post too: Totoro, my little handmade figurine
Well, this is all for now, I encourage you to take a look at the Blackmago's work and tell me what you think about this great artist.