In 2000, Telecinco decided to stop broadcasting the X Files after the last chapter of the seventh season (Requiem) and, as an extreme fan, I had to figure out how to download the chapters (which was not easy at that time) and watch them in English.
My hearing was not very good and the subtitles were not in style, so I had to look for transcripts of the audio and I found them on InsideTheX. This page helped me understand the chapters and learn English. I am surprised and happy that so many years later, I am still standing.
I feel time like a heartbeat, the seconds pumping in my breast like a reckoning. The luminous mysteries that once seemed so distant and unreal, threatening clarity in the presence of a truth entertained not in youth, but only in it's passage. I feel these words as if their meaning were weight being lifted from me, knowing that you will read them and share my burden, as I have come to trust no other. That you should know my heart, look into it, finding there the memory and experience that belong to you, that are you, is a comfort to me now as I feel the tethers loose and the prospects darken for the continuance of a journey that began not so long ago, and which began again with a faith shakened and strengthened by your convictions, if not for which I might never have been so strong now. As I cross to face you and look at you incomplete, hoping that you will forgive me for not making the rest of the journey with you.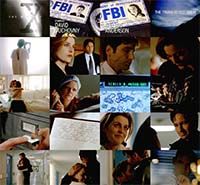 Does anyone else miss this series as much as I do?