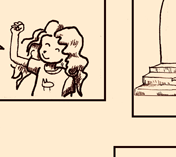 And I am here again … I don't know how many times I have left and resumed the blog; It's really hard for me to keep up with the entries and find what to say but every day I remember him and I want to go back.
The last time I was working on a blog was on the subject of the template; I changed the header, the colors and something else in the code but I didn't enjoy it; The modification became so heavy (and I like that) that as soon as I finished it I stopped getting into it.
This summer I was drawing something with a view to killing time and incidentally uploading it to the blog, and I even designed a new header but I am going to leave the one that is there because I did not enjoy the last one.
The intention is to maintain the blog (not to abandon it any more), to publish things that the people around me or mine do, the curiosities that I find or whatever it deems appropriate. If you are there to read it, thank you very much!
Jneight I'm sorry I didn't show any signs of life (you have an email!)