Well yes, I have ankylosing spondylitis. It is a disease that consists of the inflammation and hardening of the joints that surround the spine along with a series of complications that can alter your way of life.
In my case, I started with the symptoms before I was 30 and, as I am very brute, and I did not know what exactly hurt, I did not go to the doctor until a year later when it was already difficult for me to move.
I started a series of comic strips that related the events that were happening to me but there is not much else to tell; since I take medicine I hardly notice it.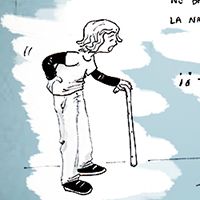 click to enlarge
The fact is, lately my gluteus hurts from sacroiliitis and when I'm sitting (which is a long time) I get very bad milk.
They could already invent chairs for spondylitis.
Any volunteer inventor?