I want to sculpt!
I think that this Totoro figurine is the only one that I've finished in two years
A year ago I tried to make some gifts for people; little Maniac Mansion's tentacles and Dr.Slump's Poops but it was a rotund failure because I burned them and the paint fell apart.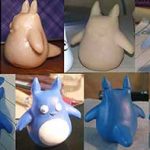 Since then, these little poos have been as you can see in this picture; unfinish.: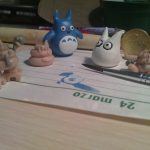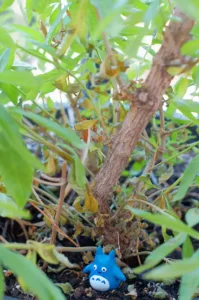 I'm scared to finish them now even though now I have good paint (Also, I have primer paint).
It's not only the fear but that I'm not living in my own house and I can't occupy the oven so many hours (until the piece is cold). Also it's difficult for me to find a proper work station where I can leave all the things in a mess without having to put them away.
I love sculpting but it isn't a thing you can just do anywhere you have to have a good place to do it.
I guess I haven't found my work station or motivation yet (but I have found enough excuses to convince to myself not to).
Well, if you like watching sculpey and fimo clay sculptures like I did, take a look to this post:
Blackmago (now Chappishop) and his mysterious disappearance
What about you, have you found a proper place and enough motivation to carry on?