I was trying to come up with a good post when I saw the promotional image for Lost depicting the scene from the painting "The Last Supper" by artist Leonardo Da Vinci.
Then, I remembered that That '70s Show parodied that painting in one of its first chapters and that Battlestar Galactica also did it in a promo.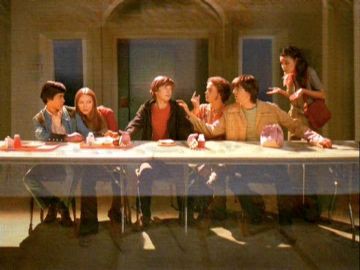 So I thought that this would be my new entry; a compilation of all the scenes I found … but … obviously I have not been the only person in the world to have that idea.
In order not to repeat an existing post, I prefer to link to the most complete page I have found: Popped Culture and I encourage you to find more parodies (since I am, I also recommend the blog that I personally did not know).
Yes, I say thousands of times that I will update frequently and then I do not do it! But I do not have time to draw or do sculpey and this blog was supposed to be my "art"